Skype Call Recorder Software and Plugins
Recording a Skype call (whether an audio or video call) is not too difficult. Although there is no such options available in Skype, but we can use external software or plugins to record the calls. You can browse the Skype plugin directory to find a call recorder app or use the apps listed bellow directly. Theses apps / plugins work with Skype and by using these, you can record the video or voice call with few clicks. There are free as well as premium apps available and you can select one as per your need. The Free apps provide some basic functions along with call recording service and have some limitations too whereas there are so many useful functions and less limitations available in premium apps.
Let's take a look at some free plugins to record a Skype Call :

Although the name says it's premium but you can get this plugin for free for a limited time. This plugin helps you to record the video calls, Skype Chats, and also Shared Screen. You can also share the recording through Facebook or email to someone directly from this app. It has another option ti integrate the application with your Dropbox or Evernote Notebook, so that you can store the recorded videos there. You can record up to 8 Skype calls simultaneously, whereas the Call and Video recording can capture up to 1 hour. Two versions of the plugin , both for windows and Mac also available and if you are using Windows 2000, DirectX 9.0 will be required and it is recommended to use the  5.6 or higher version of Skype.

Another Free Video Call Recording plugin for Skype is "Messenger Plus". Along with Video and Audio call recording this plugin provides so many cool features like : Video Sharing, Adding animations to call, Extra and Funny video as well as sound effects, funny and decorative overlays etc. You can change the Skype ringtone to a customized one and set your favorite music as the default. The Video sharing function allows you to share the locally stored videos with your Skype contacts live during the call while another funny feature enables you to send funny flash animations to them while talking.
This Free app supports video and audio call recording for unlimited duration. So no limit. It can also be configured to record the calls automatically and you can manage the recorded calls latter. The menu button of Messenger Plus will be displayed on the top and you can manage all the functions by using that menu.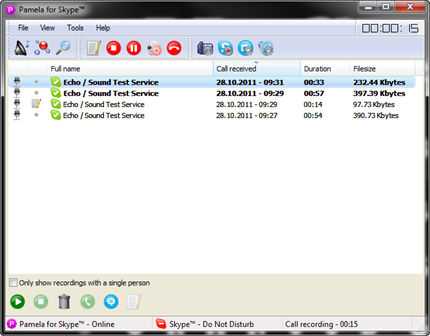 There are both Paid and Free Versions of the app available and the Free Version allows you to record an audio call for 15 Minutes whereas it supports the video call recording for 5 Minutes. You can try the free version before buying the Professional or Business versions. Apart from video and audio call recording this plugin has the features to auto reply your chat, recording the Skype chat, start auto recording etc. However you will need to run this app with "Skype 3.8 " or higher version.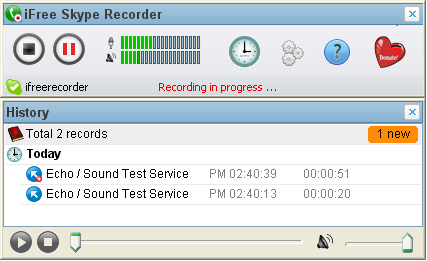 A Simple to use Voice Call Recorder for Skype users. Completely Free and supports unlimited recordings. You have the option to chose the recording from both sides or only from your side or only form remote side. Setting automatic recording is possible whereas you can also manually control the recordings. It stores the recordings in MP3 format and has an inbuilt MP3 Player.