Instaport.me and InstagramDownloader are the two best ways to download Instagram photos. As we all know there is no such option to download Instagram photos directly, these two methods can really help you to save your favorite Instagram photos in your PC. Instagram photos also saves the information about location and the user. If you are feeling insecure about these information, after instagram acquired by Facebook and wish to delete the account, please take look at the last paragraph, that explains about the removal of Instagram account completely. However before deleting the account you may wish to download those nice pics taken by you and customized by Instagram effects. So we are going to discuss on how to download those photos first.
Use Instaport.me to download Instagram Photos
Go to Instaport.me and click on the button "Sign in with Instagram".
This will take you to the Instagram website and you need to login using your Instagram username and password.
After logging in you will be asked to authorize the Instaport app. Click on "Yes" button.
This will take you back to the Instaport website and you can see your Instagram profile pic as the account has been authorized.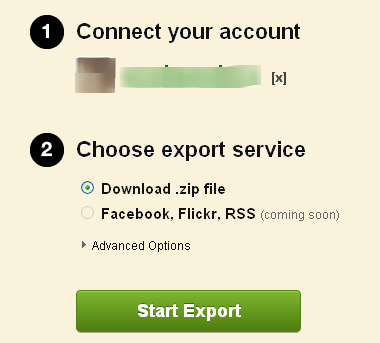 Click on the "Start Export" button to start the download process. It will take few seconds and you can see the download link.
Click on the "Download Photos" button and the download will be started.
If you don't wish to download all the photos, but some specific photos, click on the "Advanced Options" and set the filter as per your need.
How to Download Instagram Photos through Instagram Downloader
Instagram Downloader is a free and open source utility for downloading Instagram photos to your PC. You can find the download link of the software Here.
Extract the Files. You will get the InstagramDownloader.exe file.
Run this file. It's a portable application. No need to install this. You can download all your Instagram photos by putting the username only. No need to share your login and password information with 3rd parties. So just enter the Instagram user name and click the download button. This will show you the URL of all the Instagram photos of that user. Copy the URL and open it using the browser. Download the photos one by one.
This might be time taking. So if you wish to download all the photos in a short period of time, take the advantage of instaport.me.
How to Delete Instagram Account :
If you are worried about your privacy and wish to discontinue from Instagram, Please follow this link.
Select the appropriate reason for leaving Instagram, from the drop-down list.
Find the "continue deactivating your account".
Enter Your Password and click on "I understand, deactivate my account" button.
Done .